Social Media Newsrooms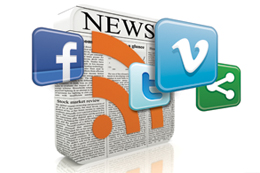 Q4's social newsroom enhances a traditional online newsroom by including social channels and web 2.0 elements that allow visitors to share and interact with its content. We help companies package their news content and other key materials into sectioned categories and make those elements subscribable which helps visitors to readily pick and choose, receive and share only those content aspects that are relevant to them. Integrating Q4's social newsroom helps companies present themselves to broader audiences such as journalists, bloggers, employees and shareholders and motivate greater participation and openness.
POPULAR FEATURES
Embedded Presentations and "ShareThis" – Embedded SlideShare presentations provide your users with immediate access to your information – increasing the likelihood that your content will be consumed and enabling it to be shared across the web.

Press Releases – Gives you the option to post manually or through data feeds (which can be integrated from any newswire) and can be automatically segmented by country.
Segmented email alerts – Automatically send an email message to a pre-selected list anytime specific content on your site is updated (press releases, events, presentations, reports or any other type of content that your release on a regular basis).
Segmented RSS feeds – allows your users to keep informed on news, events, presentations and important updates.
Video Gallery – All videos are housed in one area, but can be embedded throughout your site to tie in to relevant content. You can post videos on popular social channels like YouTube & Vimeo, embed them on your site and share through Facebook and Twitter. Embedded videos load quickly which makes it easier for your content to be shared and viewed across the web.
Photo/Image gallery – Lets users flip through images without reloading the page. We can also include functionality to download images.
Events calendar – Lets you manage all of your events and post them simultaneously to your events calendar as well as any other sections specified such as the home page and investor index page. You get significant flexibility in terms of how the calendar displays – for example, can display as a list with information & associated assets (eg. downloads) or as an actual calendar. It also gives users the ability to download events to their calendar.
Events Notifications – Once a user downloads an event into their calendar they can choose a timeframe i.e. one week, 3 days or one day in advance to be reminded about the upcoming event.
Media Kit – Includes all popular downloads such as corporate fact sheet, executive bios, whitepapers, press releases, FAQ's all in one area. Briefcase allows users to aggregate all information they want to download in one convenient area.
Integrated googlemaps – Lets you highlight locations for events/facilities.
Import & export mailing lists – Gives you the ability to easily import an existing email list or export to use for an external email campaign or for use within another department.
OTHER GREAT FEATURES
Ability to roll site back to any point in time – Enables site managers to instantly retrieve fully-functioning replicas of the site as it appeared at any point in time. This can help to aid in your planning process as you can go back and see when events were held previously.
Pre-set publishing – Set activation times to have pages publish in the future to automatically coincide with an event
Automated workflow/approvals – Workflow helps to manage content and ensures that only approved content is posted to your website. As changes are made and submitted to the system, an email is sent to prompt the next person in the approval process. This allows for the comprehensive control of all content creation, approval, staging and publication.