NIRI's Best practices for online web disclosure, blogs and forums and social media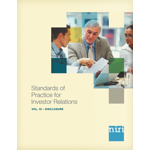 The National Investor Relations Institute (NIRI) has just released its third volume of Standards of Practices for Investor Relations.  This volume focuses on outlining current best practices in corporate disclosure and is an update from a 2004 version.  The updated guideline takes into account the innovations in disclosure practices in regards to the SEC's guidance on web disclosure, social media compliance concepts and recent case law.
While many companies have been quick to hop on board the latest digital and social channels, many have struggled with disclosure; unsure of how to properly control and filter the information they are sharing with investors.  Thankfully, NIRI has consistently released insightful and industry-leading papers such as this latest piece, that have become for many companies, the go to reference for best practices in all things investor relations.
This latest volume is especially interesting due to the large amount of changes and developments in web disclosure over the last five years (we have discussed some examples of companies who have adopted web disclosure practices on our blog).   What follows are some of the key highlights and commentary on the best practices for online web disclosure, blogs and forums and social media.
Liability for third party web comments
The paper makes note that a company is responsible for all communications that it makes on its own behalf including corporate blogs or electronic investor forums.  In both these cases, some companies may be concerned that they will be held responsible for what third party users write on these platforms.  These comments however, are not their responsibility and companies need not fear any reprimand from comments made by third party users.
Use of Company Website for Disclosure
In 2008 the SEC issued the "Commission Guidance on the use of Company Websites" which acknowledged that a company website would satisfy FD disclosure requirements if:
The website is a recognized channel of distribution of information to the market;
The website is a source of board dissemination to the market and;
There has been a reasonable waiting period for investors and the market to react to posted information.
NIRI notes that disclosing material nonpublic information solely via a corporate website is only an emerging best practice and by no means a standard.  Most companies continue to use multichannel distribution methods to insure the broadest distribution to their investors.  NIRI also notes to be aware of web-crawling dangers.  Make sure that you have a strong password and some form of protection in order to access the information.  Without it, the information is susceptible to web crawling and the risk of being accessed and published prematurely before it was intended to be made public.
Blogs and Electronic Forums
As mentioned earlier, blogs and forums can be a point of contention for many companies who are concerned about the two way street of communication that is opened up between the company and whoever decide to comment on the web.  Here are a few of the best practices NIRI listed in regards to blogs and e-forums:
Statements made by the company must comply with anti-fraud law.
Companies should establish a clear policy on what employees are allowed to contribute to the corporate blog and e-forums.
Companies who decide to publish a blog should establish and publish clear terms and conditions designed to limit the company's liability.
In general, the overall focus of NIRI's best practices for blogs and forums, is to set clear guidelines and rules both within the company and among users of the communication channels.  The guidelines protect the company from any liability and make sure they have as much control over the communication as possible.
Other Forms of Social Media (i.e. Twitter, Facebook)
Like blogs and e-forums, other popular forms of social media can make some companies nervous because of the open-ended possibilities of communication.  While the lack of control can seem daunting, these are the channels of communications that your investors use on a daily basis.  As time passes, they are going to demand that companies reach out to them on their preferred platform rather than being forced to search out the company's.  Here are a few key best practices outlined by NIRI:
Regulation FD and SEC rules still apply when making posts
Developing a strong and clear social media policy is of the utmost importance.  Make sure to have a policy readily and clearly available for users to review on all social channels
Incorporate the company's existing disclosure policies into social media guidelines
Anyone who will be using social media should have training and thorough understanding in regards to applicable security laws
Even if your company does not Tweet or post anything it is still important to monitor what is being said about the company, it's management and it's products and/or services.  Comments and posts on social media can be damaging to a companies reputation and it is important to be aware of what is being said.
This is just a small sample of this incredibly resourceful look into current best practices in investor relations regarding disclosure.  We encourage everyone to get a copy right away to help evaluate and improve your company's current disclosure policy.  Again, Standards of Practice for Investor Relations Vol. III-Disclosure can be found on the NIRI website.  All NIRI members are able to access a free electronic version while no members have to pay a small fee.